The Grey safari
DATE TOUR 24 September – 4 October 2024 * xFULL
GENRE landscape and wildlife
TOUR LEADERS Marsel van Oosten & Daniella Sibbing
TOUR START Nairobi, Kenya
FEE 17,995 USD per person *
DEPOSIT 5,000 USD per person
SINGLE SUPPL. 2,250 USD for a single room 
GROUP SIZE 6 guests
LEVEL all experience levels
This tour is currently fully booked. Please use the booking form below to have your name put on the waiting list for this tour. As soon as something opens up, we will be in touch!
* We will also be offering an exciting new extension for this tour, so block the dates up to 7 October! You can pre-enroll for this tour now by using the booking form at the bottom of the page.
TOUR DESCRIPTION
We have designed a super special safari for you, combining the best opportunities to get amazing shots of rhinos, with the most beautiful locations to photograph elephants with big tusks, moving in big herds over empty plains with dramatic backgrounds. We call this trip: THE GREY SAFARI. And we will take only 6 guests with us!
We start in Nairobi, Kenya. You will be picked up from the airport and taken to your hotel where we stay for 1 night. The next morning our adventure starts! All flights on this trip are private charters which allow us 40kg of luggage each. So we will have no problems taking all our camera gear on board, and we won't have to struggle with luggage allowances. You'll be traveling Squiver style!
The best place in our opinion to get iconic shots of large elephant herds is in Amboseli and its surrounding private concessions. On this Grey Safari, we'll be visiting two different locations to see elephants.
Our first stop is 2 nights at Tawi Lodge. It is in the central part of a crucial corridor that links Amboseli National Park with the Chyulu Hills and Tsavo protected areas, providing animals with a route through the narrowest part of the space between two settled areas.
It is leased from the local community and hosts majestic elephant bulls and family herds as they undertake their seasonal journeys. We can stay on the sanctuary or make our way into the neighboring conservancies to search for big tuskers. Choices, choices!
As we are in the dry season, there will be a lot of activity in and around the waterholes, which will be a good start for our search of big tusked elephants that frequent the private concession and the neighboring national park. We will get special permission to go off-road at the Kimana Sanctuary, increasing our opportunities to get close to our magnificent subjects.
We stay in a lovely tented camp. The lodge and cottages sprawl along the edge of dry acacia woodland with Mount Kilimanjaro standing proudly above. Elephants often pass right close by, gently allowing close absorption into their secret lives, from the comfort of the cottage decks. Each of the "elegantly rustic" cottages are richly appointed, all with incredible views looking out over the mountain, the cottages have spacious bedrooms, private decks, en-suite bathrooms, with both bathtub and shower each cottage has large, snug 4-poster beds.
There are 22 rangers who provide wildlife security throughout the sanctuary and work tirelessly to mitigate any conflict between wildlife and the bordering landowners, ensuring the safety of both people and wildlife.
There is a thriving population of game – wildebeest and zebra aplenty as well as Thompson's and Grant's gazelles, eland, impala, warthog, bushbuck, baboons, giraffe, waterbuck, and buffalo. Not to mention, of course, the majestic elephants that pass through the area.
From Tawi we continue our journey further into Amboseli, where we will stay 4 nights in Tortilis Camp.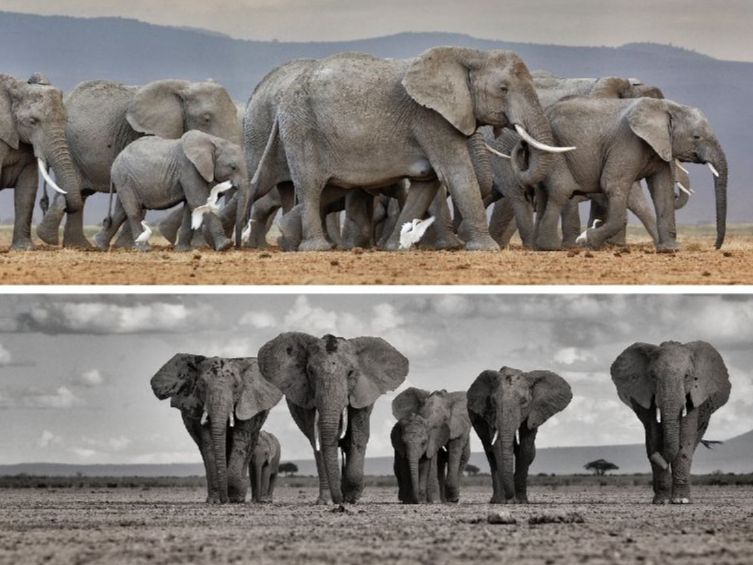 With a population of over 1,000 elephants residing in the parks eco-system, it features some of the largest elephants in Africa. The name "Amboseli" comes from a Maasai word meaning "salty dust", and it is one of the best places in Africa to view large herds of elephants up close. Which is precisely why we take you there on this safari.
Amboseli is hands down the best option for the type of iconic and clean shots that we probably all like to get! Big herds crossing the completely open lake bed of Amboseli. The best way for this to happen is to stay in a conservancy to the west of Amboseli, where we can get off the road and out of the car with the elephants crossing the lake bed. Many of the pictures taken by Nick Brandt were taken in this area.
As we are spending most of our time in a private section of the park, remote release is possible as well as GoPro footage, but the general elephant images from here are absolutely outstanding, with clean backgrounds and sometimes Mt Kilimanjaro can even show herself.
In October it's very dry, so there is likely going to be lots of dust, which obviously makes for great pictures!
You can also get great eastern white bearded wildebeest, zebra, maasai giraffe and ostrich on the lake bed with some exciting shots to be had with them. The conservancy is owned by the Maasai community, and as such you see a lot of them and their livestock as well in the middle of the day when they come to the water, which in itself can produce some interesting shots.
We are going to stay in a camp that is named Tortilis. More than half of the guides at Tortilis are Maasai, and have between them 80 years of guiding at Tortilis! The current fleet of safari vehicles are new, specially fitted, 4×4 Toyota Landcruisers. The vehicles are unrivaled with feature enhancements specifically designed for comfort and photography – open sided with 3 rows of seats, photographic equipment stands, and charging sockets.
Tortilis Camp has a prime location for witnessing the majesty of Africa's highest mountain, Kilimanjaro. It is named after the flat-topped, umbrella thorn tree, the Acacia Tortilis, and embraces a hill in one of Amboseli's areas of Acacia Tortilis woodland. Located in a private conservancy bordering the national park, game drives, walks, sundowners and bush meals take place both inside the national park and in the conservancy, where we'll enjoy exclusivity.
The tents are all simple but spacious, with king or twin beds and elegant en suite bathrooms. There is a main lounge, bar and dining area, all exquisitely built with natural materials and thatched roofs, with magnificent views of Kilimanjaro. Tortilis Camp was one of the first eco lodges of its size and is very proudly 100% solar.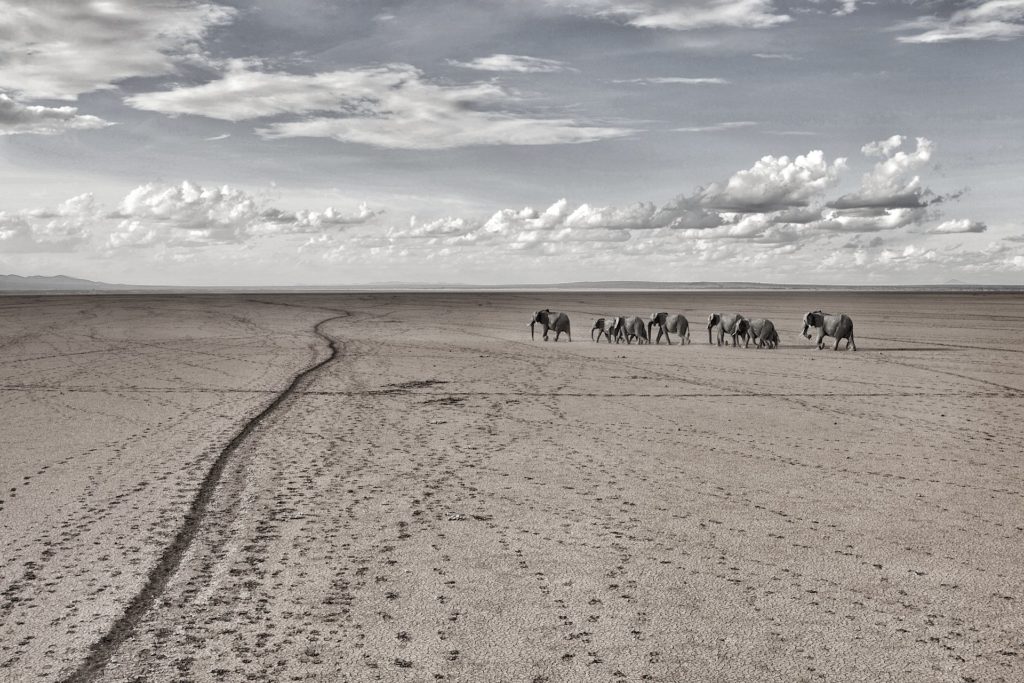 We are going to leave the elephants behind and take another private charter to an area that is the absolute best place to view and photograph white rhino. It is a reserve specialised in Rhino, and we'll stay there for 4 nights.
Its conservation and breeding program has been very successful, providing stock for translocation to other sanctuaries, such as Nakuru, Tsavo, and the Aberdares National Park.
Apart from rhino, they also have lion, big buffalo numbers as well as other wildlife, including zebra, giraffe and plains game such as eland, oryx, impala, waterbuck, Thompson's gazelle, and warthog. It is a haven for birdlife including grey-crowned cranes.
They have over 350 white rhino and over 75 Black in an area of just over 19,000 acres! Fenced for security as would be expected. The black rhino is much more skittish, so we will focus our photography sessions on the white ones.
The rhinos are often on top of raised plains during the day, so you get beautiful backdrops of the sky, the Aberdare Mountains or Mt Kenya. In the evening they return to the valleys, and you see them in clearings with background views of yellow fever trees, which is also very picturesque! Large herds of 10 or more white rhino together are often seen on the plains, where they go to sunbathe.
What makes this location extra special, is that you can get out of the car and lie on the ground if you wish, obviously within reason for safety. Remote release is possible and great fun, but requires nerves of steel to watch your camera pass underneath a herd of rhino.
What is also (sadly enough) very unique about this place, is that the rhinos still have their beautiful horn. Check out those gigantic horns on the pictures; they are astounding!
In most places rhinos are de-horned for their own protection. This means that photographing rhinos with a full grown horn will get more and more rare, and conservationists fear that it will probably get so bad, that there will be generations that grow up not knowing what a real rhino horn looks like. With our stay, we support this wonderful rhino sanctuary.
We will have exclusive use of a beautiful luxury camp on the reserve for just our group, so we can basically do what we want :-)
On the last day, a private charter will bring us back to Nairobi.
INCLUDED IN THE TOUR FEE

12 days in Kenya, including all transportation during the photo tour
All accommodation
All meals & drinks
3 charter flights with 40kg of luggage allowance
Transfers from/to airport
Game drives with just 3 guests per vehicle
Photograpic tips & trics
Image reviews
Fun!
NOT INCLUDED IN THE TOUR FEE

International flights
Additional nights outside of the itinerary (at beginning or end of the tour)
Tips, gratuities, personal expenses
Baggage, cancellation and personal insurance (which is mandatory).
For your information, we also have a link to our Terms & Conditions for you.
All pictures for the Grey Safari were provided by the lodges and by Squack Evans, our local Kenian guide who will join us on this tour.
If you would like to take out cancellation insurance for a tour, it needs to be arranged upon booking. You can get cancellation insurance through a third party, or we can arrange it for you. For more information go to: www.squiver.com/insurance.html.