From Dusk till Dawn
DATES 19 – 27 June 2024 (9 days) x
TOUR LEADERS Marsel van Oosten and Daniella Sibbing
FEE 7,950 EURO from Durban
SINGLE SUPPL. 1150 EURO for a single room
DEPOSIT 1,000 EURO per person
GENRE wildlife
GROUP SIZE 9 guests
LEVEL all experience levels
SPECIALS exclusive use of the entire reserve


TOUR DESCRIPTION
Due to high demand, we have set up several hides tours. This one features a full week of photography at Zimanga Private Game Reserve. We will spend 7 nights in a row in Zimanga (South Africa), where we have booked the entire reserve exclusively for our group. This means you get the maximum possible amount of sessions in the night hides, which Zimanga is most famous for. Everyone is guaranteed at least 4 nights in the overnight hides on this trip!
Zimanga is home to several state-of-the-art photographic hides built under the guidance and supervision of award-winning wildlife photographer Bence Mate. These hides are unique in their design and execution in Africa and are already producing potentially award-winning photographs.
This tour allows you a unique perspective on wildlife, as the main focus is photography from hides that have been sunken into the ground. This means you will be shooting just above water level.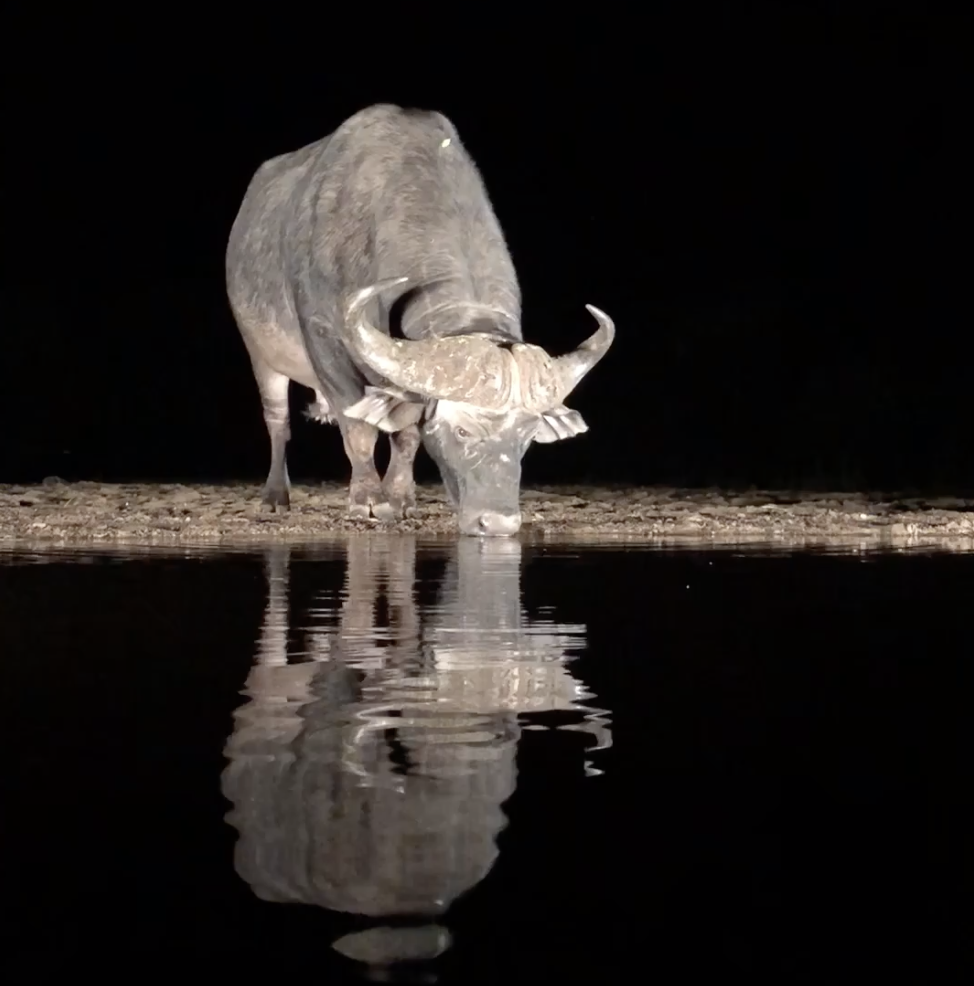 < Click on the buffalo to see the iPhone video >
The tour starts in Durban. Upon arrival, you will be transferred to our hotel, close to the beach. We will have dinner at a neighboring restaurant and brief you on the week to come. The next day, a private transfer will bring us to Zimanga (4 hours drive), where we will spend 7 nights.
Zimanga private game reserve
What Zimanga is probably most famous for, are the overnight hides, resulting in very dramatic images with a specific look: pitch black backgrounds with only a warm light on your subject. These hides are custom designed for large mammal photography. Each night 8 people can be accommodated in two air-conditioned overnight hides, built into a waterhole with the large window opening up a few centimeters above water level. Animals that visit the waterhole drink only a few meters from your bed. The drinking edge is 4m from your chair, and a large variety of mammal and bird species visit the waterhole at night. Imagine shooting buffalo so frame-filling, that your 14 mm wide-angle is not wide enough!
Located in KwaZulu Natal, it is the first reserve in Africa designed specifically to satisfy the needs of wildlife photographers as well as safari clients who have a deeper appreciation for the bush.
Spread over 6,000 hectares of pristine bushveld, fever tree forests and rolling hills, Zimanga is bisected by the Mkuze River and home to a huge variety of animals and birds. From leopards and elephants to cheetah, nearly every sought-after sighting is accounted for. There are over 400 bird species recorded at the reserve.
Although the focus of this tour is primarily on spending our time in the various hides, we also offer game drives, as we have the use of private safari vehicles for our group as well. Safety allowing, you can even get out of the vehicle to make low-angle shots of for instance cheetah, rhino or lions.
The photographic hides are built to maximize the photographic potential of the animals that visit them. They have been positioned with consideration of the angle of the sun, the background and the angle which the viewer occupies in relation to the animals and birds.
All photographic hides on Zimanga have been designed with immense precision. First, a test box is installed and used for several months allowing the design and positioning to be adjusted, often by the tiniest degree, to ensure that the lighting, focal lengths, backgrounds and animal behavior all fall into place so that you can produce images of startling quality and originality.
Each of the hides is designed for its potential subject whether it is a large mammal like a giraffe or elephant, or the smallest of birds like waxbills and twinspots. You will be invisible to your subjects behind specially imported one-way glass so as not to startle the subject with any movements or sounds.
You'll be seated on comfortable executive-style chairs, which glide effortlessly and quietly across the wood laminate flooring. A solar-powered air conditioning unit situated in the roof of the hide controls the temperature and humidity within. The hides are spacious and soundproofed with carpet on the walls to muffle the sound. The hides provide a non-intrusive method of wildlife photography and although the subjects are free-roaming, the hides tip the balance heavily in your favor to get amazing shots.
There are two overnight hides, where everyone will spend at least 4 nights. The overnight hides are custom designed for large mammal photography. 4 photographers at a time can be accommodated and sleep in the air-conditioned hide, built into a waterhole with a large window opening, just a few centimeters above water level. Animals that visit the waterhole drink only a few meters from your bed. The drinking edge is 4m from your chair, and a large variety of mammal and bird species visit the water source. LED floodlights have been installed at water level to beautifully illuminate subjects that approach the water's edge. The hide's main lights are installed on either side, and the high CRI rating of the lights ensures true-to-life color and illumination of your subject. This ensures you the perfect steady lighting conditions!
With just 9 guests on this tour and the entire reserve booked exclusively for our group, we offer you maximum use of the hides! This means that you can spend 4 or 5 nights in the overnight hides during your stay. This is more than any other photo tour offers you!
There are several bird hides, including a vulture hide, situated on a hill with a great mountain backdrop. The action can be fierce as vultures, alongside other scavengers like jackals, compete for food.
Because we have exclusive use of the reserve, we will also be offering game drives. Depending on the sighting, you may even be allowed to photograph animals from ground level, lying flat on the ground next to the vehicle.
After seven nights at this amazing place, we will bring you back to Durban International Airport in the afternoon, where we will say our goodbyes.
INCLUDED IN THE TOUR FEE

all accommodation (8 nights)
all meals & drinks (full board)
exclusive use of hides and safari vehicles
4 or 5 nights in the overnight hide
park fees
all transfers
in the field instructions
image reviews
lots of fun and sleepless nights!
NOT INCLUDED IN THE TOUR FEE
international flights
travel and cancellation insurance
gratuities
items of personal nature
Please read our Terms & Conditions for all Squiver photo tours.
If you would like to take out cancellation insurance, it needs to be arranged upon booking. You can get cancellation insurance through a third party, or we can arrange it for you. For more information go to: www.squiver.com/insurance.html.