6
Ice Capades is photo of the month
Marsel's Iceland picture 'Ice Capades' is Image of the Month on Naturescapes.
Here's the background info that accompanies the shot:'Early this year I was travelling in Iceland, scouting for locations for a new tour. I was prepared to see a lot of spectacular landscapes, people had even warned me that I would get hooked, but it still greatly exceeded my expectations. As a result I didn't cover a lot of distance each day – too much to see and photograph! And as a result of that, I stayed much longer than anticipated – which was not too bad by the way.
This was taken at sunrise. I had set my alarm clock very early to check out the weather, and it didn't look very promising – completely overcast. The weather in Iceland changes quickly though, so I decided to give it a try anyway. When I arrived at the beach the clouds already started to move away and the sky opened up a little. Enough for some light and color to come through. Moments like this can disappear quickly, so I had to move fast. I shot three exposures to capture all the brightness levels and later merged them in PS.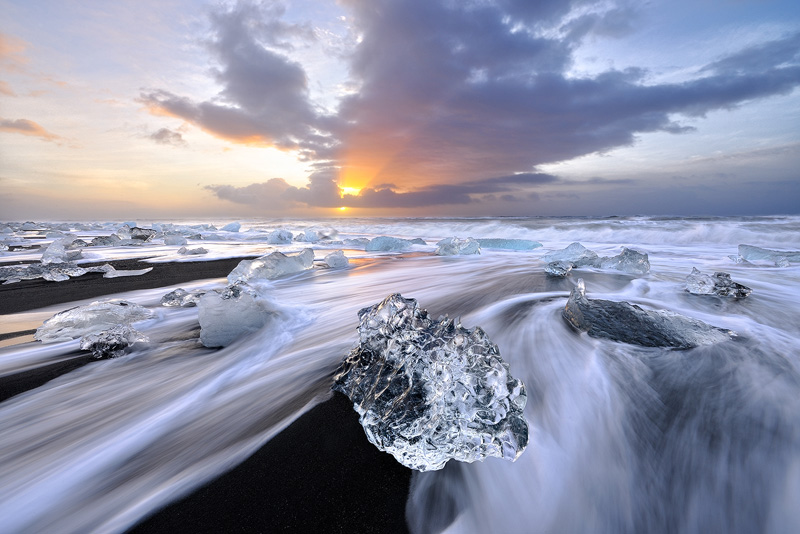 If you would like to join us on this year's Iceland Winter Wilderness tour, please check out our website for more information, images, a tour impression video clip and a detailed PDF. One of the tours is already sold out, but we have a few openings for the other one. If you're interested – don't wait too long!