29
Wildlife photographer of the year 2013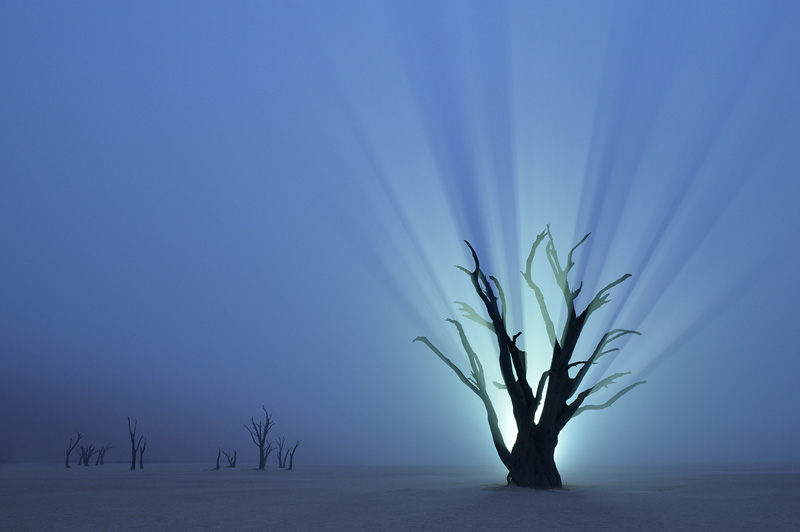 We are very proud to announce that Marsel's image 'Resurrection' was successful in the Creative Vision category of the 2013 Wildlife Photographer Of The Year Awards! It was shot in Deadvlei, Namibia, and here's how it all got started:
One of the many aspects of my preparations for my photography, is to find out what images of my subject are already out there. This usually gives me a good idea of ​​what is possible, what to expect, and what has already been shot by other photographers – so I don't run the risk that I photograph the exact same thing, in the exact same way. Especially this last point is essential for me from an artistic perspective – there is no creativity in copying the photos of others. And also from a commercial point of view it is important to create original work – not a single publisher is interested in more of the same.
On my first visit to Namibia many years ago, it was not very difficult to create original images. Most people had never heard of Namibia, let alone that they had seen any pictures of it. The photographs that I shot of the surreal landscapes were mostly viewed with disbelief. "That must have been Photoshopped" was a frequently heard comment. Most of the pictures that I showed were original, because the subject was, at that time, original.
Immediately after my first visit I decided to start with night photography in Namibia because at that time no one else did it, and because the dry desert air and the lack of light pollution are perfect for it. Those pictures became very popular, and night photography has since been an integral part of our annual Namibia Untamed workshop – Milky Way shots, static stars and star trails. The result was of course that more and more photographers visited Namibia, more night photographs of Namibia were shot, and after a few years the novelty wore off. It was time for something new.
I had seen pictures of Deadvlei in fog, and I came up with the idea to try to combine fog and night photography in one shot. Easier said than done, because fog only appears four or five times a year in this desert area.
My idea was as follows: fog looks at its best when shot against the light, for example around sunrise. A fog picture that I shot in Madagascar, and that was published in National Geographic, was based on that very principle. But when it's dark there is no backlight, so I had to create the light itself. Using a very powerful flashlight I wanted to light one of the trees in Deadvlei from behind so that the branches would create shadow beams in the diffused light. I selected the perfect tree, the one with the most dense and upward pointing branches, and chose the best the composition for the shot. On every Namibia workshop I brought my big flashlight and kept a close eye on the weather forecast, waiting for that one chance. But whenever I was there, the fog was not. Until that one magic day in June last year.
The weather forecasts indicated that there was a chance of fog, so we decided to visit Deadvlei earlier than usual. In total darkness Daniella and I walked across the dunes towards Deadvlei, and when we got to the top of the last dune, I saw that this was the moment I had been waiting for for years. We quickly ran to The Chosen One and I set up my tripod as fast as I could – there was no way of knowing how long the fog was going to stay and I didn't want to miss this opportunity.
It was still dark, so focusing and framing was difficult. Daniella hid behind the main tree and set the flashlight to the highest output so that I could get my focus and composition. I then took a test shot to make sure everything was sharp and that the composition worked.
For the final image I had very little time – shooting too early would mean the trees in the background would not be visible, and waiting too long would mean it would be too bright to see the effect of the flashlight. I therefore decided to start shooting continuously as soon as I could see the trees in the background, and I constantly asked Daniella to try different output levels on the flashlight based on the results I saw on the camera.
It was a very special moment to see the end result on my LCD screen – the picture that had only existed in my head for so long, had finally turned into reality.
Nikon D4, AF-S 24-70mm/2.8, 15 sec @ f8, ISO 400, Surefire UB3T Invictus flashlight
If you would like to join us on our next Namibia Untamed workshop and learn more about night photography and composition, please check out our website for more information. Hope to see you there!