7
Squiver review: Gura Gear laptop bag
For years I thought I had a camera bag fetish. Whenever I walked into a camera store, I would spend considerable time at the bags department – picking them up to feel the weight, opening and closing the zippers to see whether they ran smoothly, counting the amount of compartments and dividers, and eventually: trying it on. It turned out I didn't have a camera bag fetish after all, I simply wasn't happy with the bags I had been using and was constantly looking for something better. When I first saw the Gura Gear Kiboko bag on one of my workshops, I was fascinated by the revolutionary butterfly design, the incredible amount of stuff that fit in there, and the supposed low weight – it sure looked like the perfect bag. I decided to get one my self, and I haven't been fumbling other bags since. The Kiboko bag is not perfect, but it's close enough for me.
When I travel, and I tend to do that a lot, I bring a lot of gear. The challenge photographers are facing all the time is how to fit everything in your cabin luggage. I am fortunate to be able to travel with Daniella on almost all trips, and she also has a Kiboko bag for her video camera and accessories. With all her stuff in the bag there is still an entire compartment that is empty, and I usually put some of my gear in there. Especially when I go on safaris this is really necessary, because I then not only bring my 200-400, but also my 600. The 200-400 can fit in the Kiboko bag easily with a body attached, and even the 600 can fit in it, but without the hood. However, if I were to put both in my bag, there wouldn't be any space left for other items – Daniella gets the 200-400 plus body, or the 600. All the cables and chargers go in my laptop bag, and the only thing that goes into my checked luggage is my tripod and my Wimberley head.
A few months ago I went on a trip to Antarctica, without Daniella. I didn't want to bring my 600, so luggage was no problem. Two weeks ago however, I was on assignment for National Geographic Traveller in India, also without Daniella. On that trip it was vital to bring my 600, so I had a logistics problem. I knew I wouldn't be able to fit everything in my Kiboko, so that meant I had to somehow fit either my 200-400 or my 600 in my stylish Oakley laptop bag. Yep, not very likely. Enter the Chobe laptop bag, also by Gura Gear.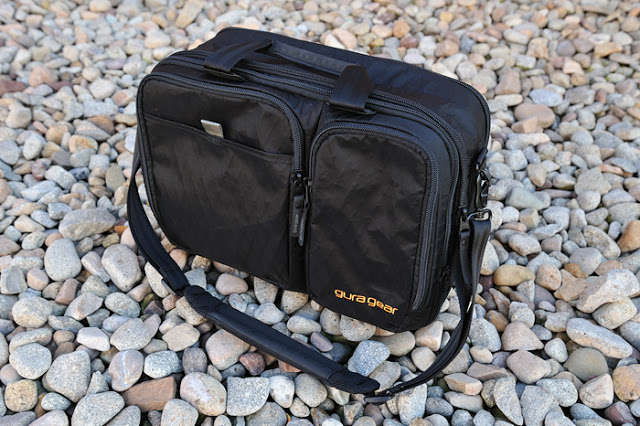 The Gura Gear Chobe laptop/camerabag
The Chobe laptop bag
My first introduction to the Chobe laptop bag was probably one of the most surreal product demonstrations I have ever witnessed. I was leading a workshop in Kenya, when I ran into Andy Biggs, founder of Gura Gear. We were all sitting in our Jeeps, waiting for the wildebeest to cross the Mara River, so Andy decided this was the perfect time to give us a demonstration of the new Chobe laptop bag. And it worked, because I got one myself a few months later and I now use it on every trip.

What's so great about it?
The great thing about the Chobe bag is that it has the same characteristics as the Kiboko bag. That means it is very light, has lots of space inside, is made of the same material, and has a very clever design. Let's start with that last one.

Expandability
At first sight the Chobe bag looks just like any other laptop bag – it is black, it has more or less the same dimensions, it has handles and a shoulder strap, as well as a few external pockets. But the Chobe bag can do something no other laptop bags can: it can turn itself into a camera bag. By unzipping one of the center zippers, not only does the middle compartment becomes twice as wide, creating enough room for more stuff than you'll need, but with the included insert you can turn this bag into a serious camerabag with space for a few camera bodies and lenses. This means that the bag is compact when you don't have a lot of stuff to carry around, and that it is bigger when you do.
When I travel by plane, I like to bring everything on board that I need for my photography – my check in luggage does not always arrive in time, and when I'm on assignment that would be disastrous. That means not only cameras and lenses, but also all chargers, cables, remotes, filters, ballheads, flash, etc. all go in my cabin luggage. When I don't bring my long lenses, there usually is enough room in the Kiboko for everything I need, but when I decide to bring my 200-400 and my 600, things get really complicated. On most trips I travel with Daniella, so any excess camera gear can usually go in her bag (thanks honey). In those cases I only have a laptop and a few external drives to fit in my 'one personal item'. However, when I travel alone and need all my long lenses, it's a whole different story.
One of the great things about the Kiboko bag is that I can fit my 600mm in it. It will fill one compartment together with my 70-200 (I know, it's incredible). That leaves the other compartment for three bodies and three short lenses. The 200-400 does not fit in the bag anymore. A lens of that size is not something you would normally consider trying to get into your laptop bag, but with the Chobe bag you can.
When I was on assignment in India for National Geographic earlier this year, that was exactly what I did. My 600 and 70-200 in one compartment of the Kiboko, the D3, D3s, D3x, 14-24, 24-70, 17-35 in the other. The SB-900 and remote also fit in there, but that was about it. Enter the Chobe bag.
I simply expanded the middle compartment and put the insert in. I then could have taken all the dividers out and put the 200-400 in, because it really fits, but I decided to use the dividers to design the layout of the insert so that it would fit all the smaller items (external drives, cables, chargers, GPS) – neatly organized. I then put the 200-400 on top of that, and I could still close the zipper without any problems. Amazing.

Size and weight
Photographers are obsessed with weight. This is completely understandable, as everything seems to get lighter and lighter, except for professional cameras and lenses. On an average trip I bring at least two bodies (a D3s and D3x), a 14-24, a 24-70, a 70-200 and a 200-400. Add to that a flash, spare batteries, and chargers, and you're already talking about some serious weight. Getting that amount of weight onto an airplane as cabin luggage is already stressful enough, so you don't really want your 'one personal item', usually a laptop bag, to be so heavy as well. Well, no worries there, because the Chobe bag is really light – a mere …grams. With just my Macbook Pro, charger, a Wacom tablet and some small loose items, it feels as if there's hardly anything in there.
The size and weight are comparable to an old Samsonite laptop bag I've been using lately, but the Chobe is a bit wider and much better designed. But just as with the Kiboko bag you can't imagine how much actually fits in there until you try to fill it up. And even when you do, it will still easily fit upright in the overhead luggage compartment of most airplanes, or you can stow it underneath the seat in front of you.
The design
In terms of looks the Chobe bag is no stunner – it just looks like a laptop bag. Personally, I'm happy it's not too flashy or techy, because that could draw unnecessary attention to the bag that usually contains my most important items: laptop, external drives, passport and money. Of all the three bags that I travel with (check-in bag, Kiboko camera bag and Chobe laptop bag), it is the Chobe that I always keep my eye on. Of course it helps to know that my Kiboko usually weighs around 20kg when fully packed, so a thief that tries to make a run with it won't get very far.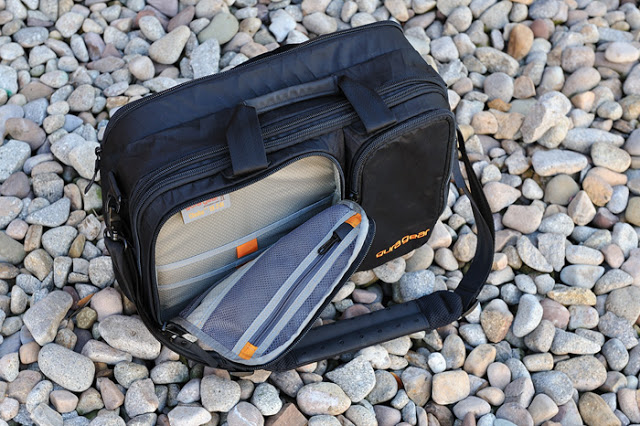 The largest outside pocket can also be used for an iPad
 On the outside there are two large pockets. The largest one I use for my Wacom tablet and lots of small items. The smaller one I use for flash drives, pens, business cards, connectors for my MacBook and other small stuff. A nice touch is the rubber protection piece that covers the metal zipper so that it can't scratch anything. The latest version of the Kiboko apparently features this as well – good thinking.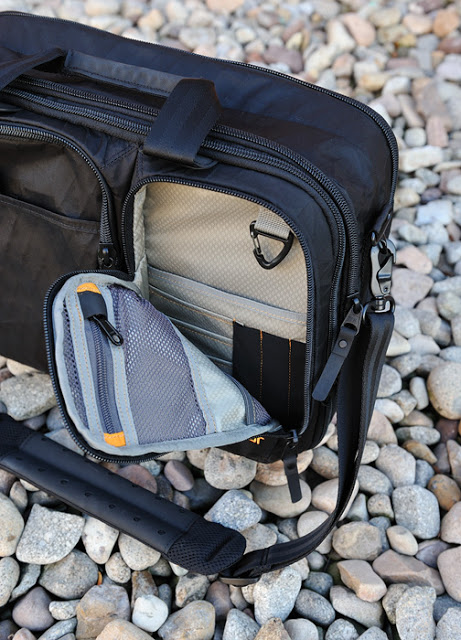 The right pocket features lots of space for small items
On the back there is a large zipper that gives access to a pocket that you can use for documents, but officially it is designed as a travel sleeve – you unzip it and slide it over the handles of your roll-on. I use this only before check-in on my big bag. After that, it's just an extra pocket.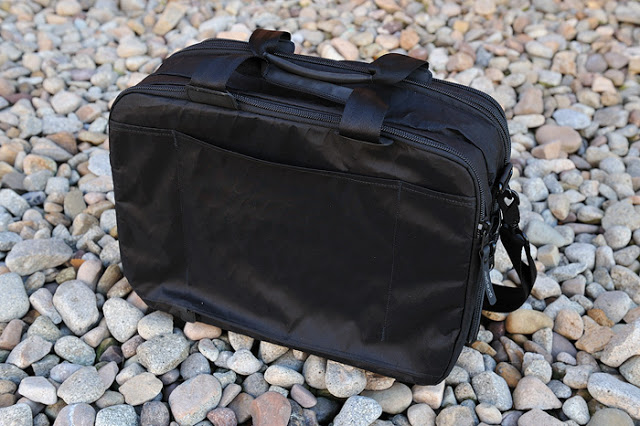 The zipper of the travel sleeve is located at the bottom of the sleeve and protected by velcro
On the left side there is a water bottle sleeve that, when unzipped, fits a 1 liter bottle. This is perfect, because I like to bring lots of water on the plane, and it doesn't even cost any space inside the bag.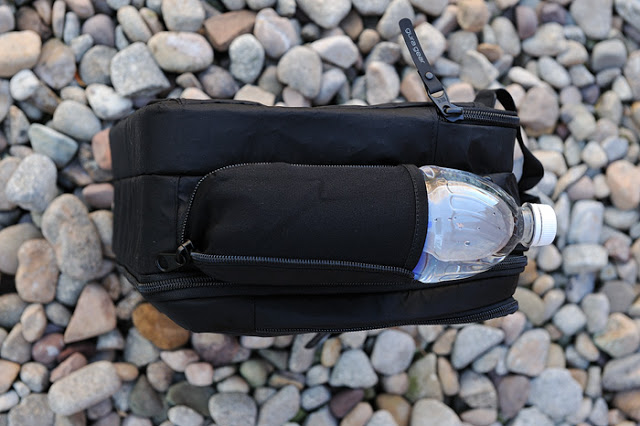 The water bottle pocket – it's only there when you want it to be
The opposite side features a cell phone pocket. You have to know that it's there, because it doesn't look like a pocket at all. It's very tight and does not have a zipper, and so far I have not used it for my iPhone for that reason. I'm often waiting in crowded airports with people standing close to me on all sides, and I like the idea of having at least a zipper to prevent pickpocketing. Dust is another issue. I mainly use it for wet wipes.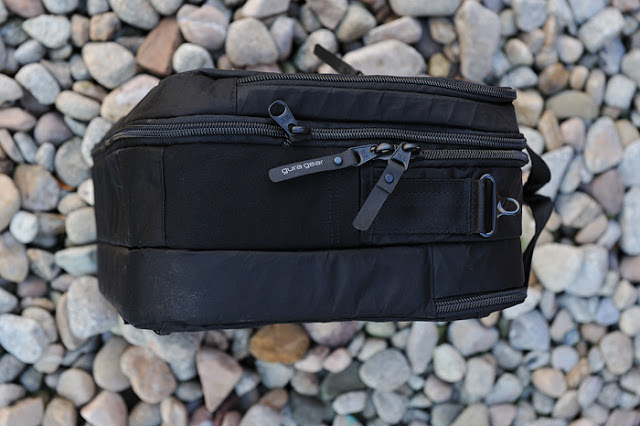 The mobile phone pocket is not easy to recognize. The bag is zipped to the most compact size.
The laptop pocket is just what you expect: my 13″ MacBook Pro fits in there nicely, even with the bulky sleeve around it.
The expansion zipper is located on the bottom right side of the bag. When you unzip it, the bag expands an additional 2.5 inches. That may not sound like much, but it is. You suddenly have tons of extra spaceYou can then add the photo insert and turn your laptop bag into a serious camera shoulderbag. I prefer to keep the middle pocket unzipped and travel with the Chobe at the maximum size with the photo insert added. Even when I don't need it for camera gear, I still like having the possibility to use the dividers to custom build the interior of the bag. It's a nice way to keep everything organized and not have it move around the bag constantly. It's only on short non-photography trips that I remove the insert and zip the bag down to the smallest size.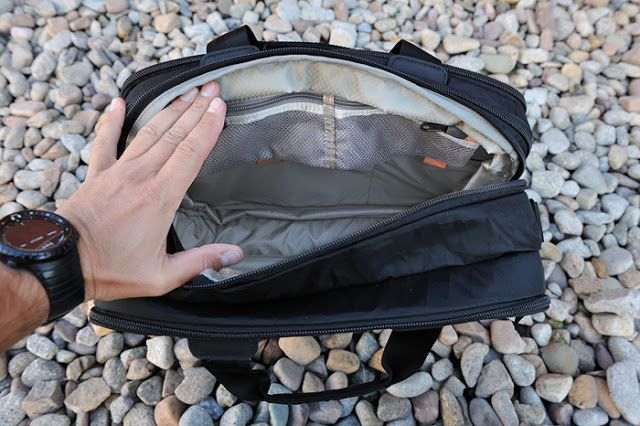 Chobe expanded without the photo insert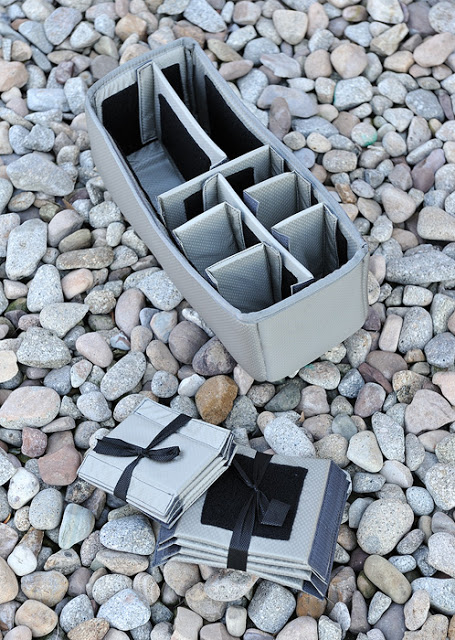 The photo insert is included with the Chobe bag. Lots of inserts too.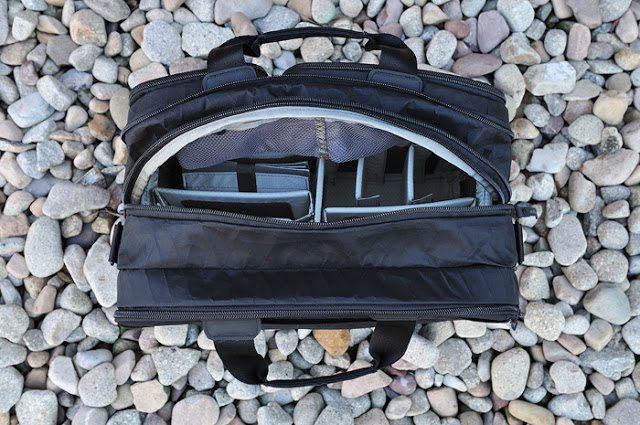 Chobe with the photo insert inside
Conclusion
This bag is the near perfect solution for any photographer that has to deal with the complicated logistics of having to travel by plane with lots of camera gear. Great built quality and flexibility, very lightweight and lots of space for both camera gear and non-photographic items. It's an impressive bag with clever design, especially considering this is version 1.0. So is it perfect? No, there are a few things that could be improved upon.
First, the handles have uncomfortable sharp edges on the inside, and you feel this especially when you're carrying heavy gear inside it. I'd prefer the handles to be much softer and gentler to the hands, because most of the time when I'm traveling I'm wearing the Kiboko on my back and using the shoulder strap of the Chobe is a bit too much on the shoulders. That shoulder strap is very comfortable, but I don't like the rather flimsy connectors that are used to attach it to the bag. On two occasions I've had one of the connectors open during transport because something pushed against it. In theory the bag could fall down and damage the gear, but I'm lucky that hasn't happened yet.
The shoulder strap is very comfortable
The zippers are smooth, but I'd like them to have some sort of locking feature, for instance to be able to use a small padlock. I know it won't stop determined thieves, but it will give me some peace of mind when I'm in very crowded airports or when I leave my bag in the hotel room. A small extra piece of metal with a hole in it on the existing zipper is all it takes. I would also like to have this feature on my Kiboko bag.
Finally, everything on the bag being black, it's sometimes difficult to find the zippers. The zippers now have small pieces of flexible black material attached to them, but I'd prefer them to be brightly colored so that I can find them easily, especially in dimly lit situations.
That said, this is the bag I have been searching for for many years, and this is the bag I will be using on all my future trips. Gura Gear did it again.