14
Publication in National Geographic Traveler
The latest issue of National Geographic Traveler features one of my less known images: a romantic dinner set up at a safari lodge in Namibia. :-)
Taking shots like this is not much different from any other type of image. It's all about composition, framing, point of view, light and perspective. Just as with my landscape photography, there is some planning involved to make sure that everything is ready when the light is perfect. However, in landscape photography the elements are simply where they are and you just have to deal with that. With lodge photography most of the time you can move stuff around if that works better for the shot, which makes it a lot easier. So you'd think. But even though you're more flexible, you suddenly have to deal with something else: your imagination is the only limiting factor. You can choose from an endless list of possibilities, and you have to decide where to put what. In landscape photography all you have to do is walk around to find the best position and angle, and then wait for the light.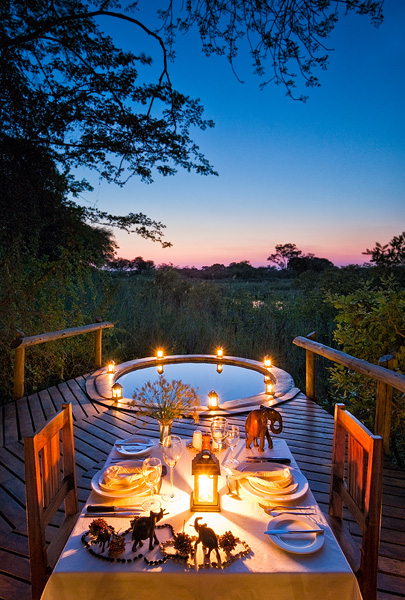 View from our bedroom in Namibia
When Daniella and I made our book on African safari lodges, Wild Romance, we shot a lot of these images. We took a lot of time to look for locations in and around the lodge and made a list of all the shots we wanted to take, as well as a shooting schedule for the lodge so they could help us set up. But deciding where to put a table or some chairs is not the only thing you have to decide, there's also something called set dressing that most landscape photographers are not familiar with. How do you want the table to look? Should there be a table cloth on it or not? What color? How many glasses? What kind? Thinking about this sort of decisions was not completely foreign to me, as I was used to this when I was still working in advertising as an art director. What kind of clothing should the model wear, what kind of table are we going to put product X on, what color should we paint that living room wall, is the kid wearing braces or not, why don't we use a red cat instead of a black one, etc. In this case we decided to keep it simple and only add some accessories that we found elsewhere in the lodge as decoration.
To get some light on the table from the camera angle, I decided to put the table against the wall of our room, right in front of the window. Turning the lights on in the room gave enough light on the front of the table. Just outside of the frame near the lower left and right corner we put some lanterns to add some light there. The other lanterns Daniella distributed along the side of the pool in such a way that they didn't touch each other nor any elements on the table. Little after sunset the sky had the right brightness and color, and that's when I took this shot.
It was great fun doing shoots like this. Not only did we enjoy planning and setting it all up, I think it's also good for your creativity to step out of your comfort zone every now and then, to try something you've never done before. It forces you switch off your artistic autopilot and to think about creative decisions you never had to think about before.