23
New Squiver team member: Greg du Toit
At Squiver we try our utmost to set up tours of the highest quality. That is also why Squiver only works with the best people in the field, because we want to make sure to give you the best photo tour available on the market.
We are very excited to announce that we have decided to add a new member to the Squiver team! Apart from tours hosted by professional nature photographer Marsel van Oosten and videographer Daniella Sibbing, we will now also offer tours hosted by Greg du Toit, who is an exceptional wildlife photographer. Greg is from South Africa and has won (amongst many other awards) the prestigious grand title "Wildlife Photographer of the Year". And his work has been published in many of the leading nature photography magazines. Greg started his photography career as a guide, so he knows the bush inside out. Nowadays he is a full time professional wildlife photographer and freelance photographic tour leader, who we are very happy to work with. Oh… by the way, he is also a nice guy :-)
By carefully selecting who we work with, we guarantee our guests the same level of photographic tutoring on all trips. And a high level of fun at the same time, because that is also an important aspect of making a tour successful.
The first tour Greg will be hosting for us is a tour in Zambia in 2016. So if you want to travel to Zambia, accompanied by an absolute expert in the field when it comes to Africa's wildlife, book this tour with Greg du Toit. Please have a look at our Zambia 2016 page for information about this tour.
Please visit the "About Greg" page, for more info about Greg, testimonials from guests that have traveled with him before, as well as a link to his portfolio.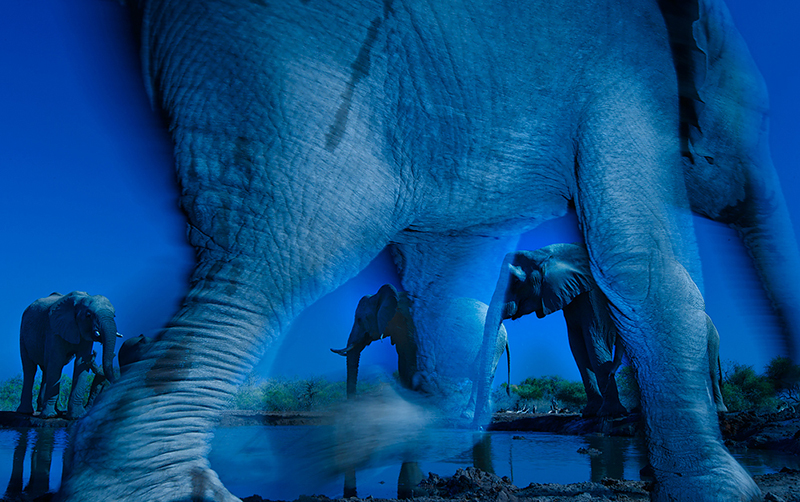 With this shot, titled "Essence of elephants", Greg du Toit won the overall grand title "Wildlife Photographer of the Year". A baby elephant less than a year old races past to join the rest of the herd drinking at a waterhole in Botswana.