3
New Sponsor: Storm Jacket
It is with great pleasure that we announce our partnership with Storm Jacket.
Storm Jacket Camera Covers are the fastest and easiest way to protect professional cameras and lenses from inclement weather conditions such as snow, sleet, wind, rain, sand, dust, and harmful UV rays.
Keeping your camera clean and dry when shooting outdoors isn't always the easiest task in the world. Yes, you can check the weather forecast beforehand – and then just stay home – but that's not an option for the serious photographer.
And for the professional photographer, working in bad weather is just a routine part of doing business. Some of the most dramatic photo opportunities don't occur on bright sunny days, or under the most ideal conditions for your camera gear. So what's the answer? Well, umbrellas don't work, plastic trash bags are slippery, easily torn and hard to fit, and most commercial camera covers are very expensive, take up too much space in your bag, and require a lot of time and effort to put on and take off. Storm Jackets offer a hassle-free solution for protecting your camera that can be put on or taken off in about 10 seconds and stores in its own pocket-sized carrying case.
Constructed from high-tech AquaNylon fabric, Storm Jackets won't lose their water repellency and are rugged enough to withstand the rigors of professional use.
We won't let a little rain stop us from shooting. Having a Storm Jacket in our camera bag or stuffed in a pocket is an absolute must. We have peace of mind knowing that our gear will be protected, and that we can keep right on shooting.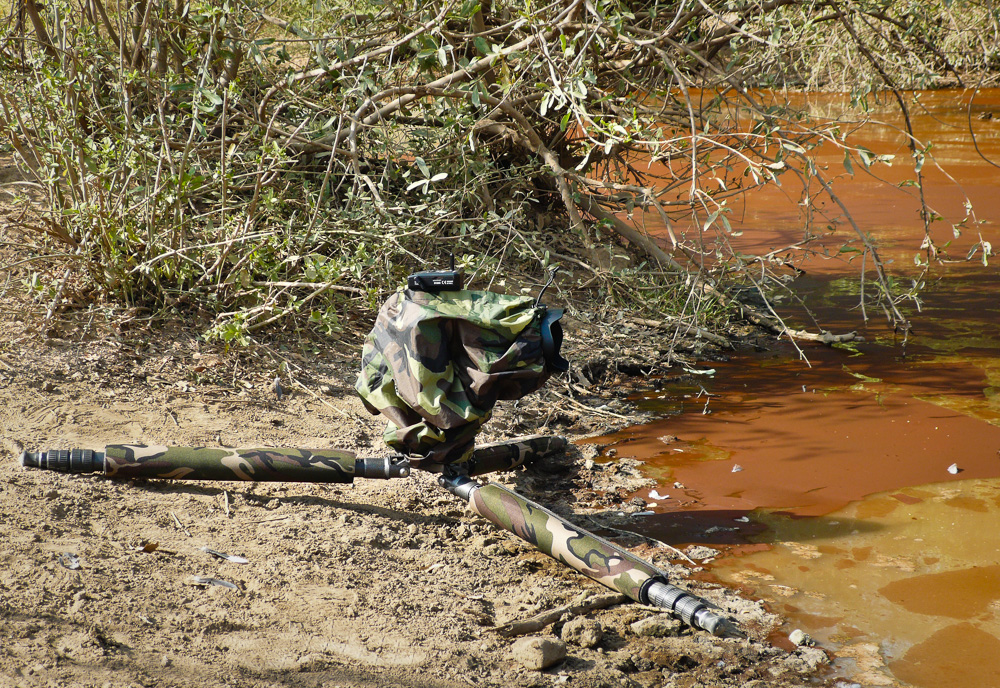 Marsel also likes to use his Storm Jackets on safari as protection against the dust and to camouflage his equipment when operating it remotely. If you have a herd of zebras galloping around your gear, that can create an incredible amount of dust – the Storm Jackets will keep your equipment clean and protected. The images show how Marsel first put the Storm Jacket on for dust prevention and initial camouflage, and then added branches to hide it from the wildlife. We will show the results later!