12
Miss Zambia
I've been on safaris in all African safari countries, and Zambia is easily one of my favorites. It's not as crowded as the Masai Mara, the Serengeti or Kruger, not as expensive as the Okavango, you can drive off road, you're not limited to opening or closing times of the parks, you can get out of your vehicle, and there's lots of water. During the hot dry season that's where all the animals will be so and that's where most of the activity will be.
Zambia is not your typical safari destination. It is not as open as the Masai Mara or the Serengeti for instance, where you can spot the animals from miles away – you have to work harder for your shots. To me, that's what makes it so much more fun and rewarding. Especially because the scenery in Zambia is so spectacular with giant winterthorn trees dwarfing even the elephants, and the famous Zambezi river with highest hippo density in the world. The Zambezi is an animal magnet in the dry season, and where all the animals go, that's where the predators are as well.
Leopards are my favorite big cats – they're just stunning. When we're in our bush camp in Zambia, I always plan a few leopard drives, where we specifically search for leopards. So far we have always been successful, just like last year. We left our camp very early in the morning to drive to this specific area where we had seen a leopard earlier in the hope to spot her again in good photography conditions. Well, we couldn't have been more lucky.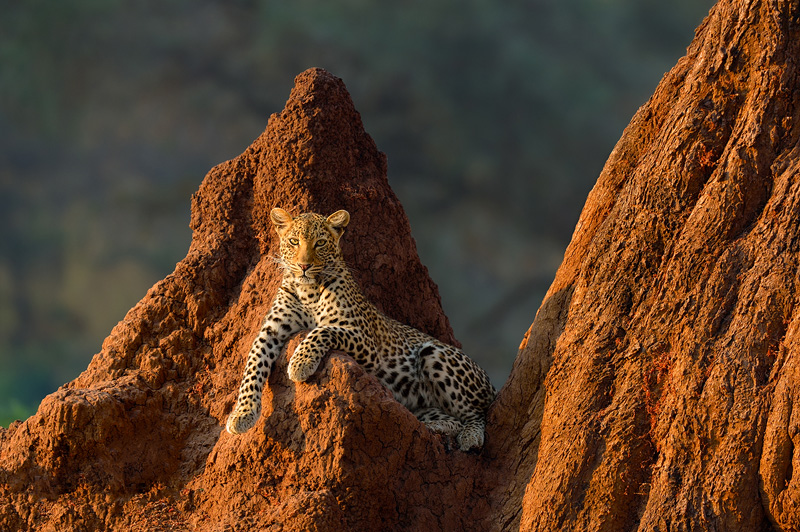 There she was, Miss Zambia, the prettiest leopard in the country, walking along the tree line. She was very relaxed with our presence, walked towards a termite mount, climbed up and lay herself down in the most elegant of poses. I asked our guide to reposition our vehicle to get the beautiful side lighting, and after that it was just a matter of clicking away. Bad photographs were simply impossible. We train our leopards well! ;-)
When the sun got higher and the light harsher, she got up and walked away. Our cue to slowly drive back to camp and have breakfast.
If you would like to join us on this spectacular trip and learn more about photography and composition, please check out our website for more information, dates and prices. There is currently a discount of 500 euro per person on the last two seats of the Zambia tour in September.