5
First prize in NPN awards
Just when we thought that 2012 has been such a successful year in terms of awards and recognition, the new year already starts with yet another award.
Marsel's photograph At The Gates has won First Prize in the Nature Photographers Network Awards. NPN is the internet's top-ranked nature photography site where nature photographers from around the world share their images. It's a real honour to have been chosen as a category winner amidst so many excellent photographers.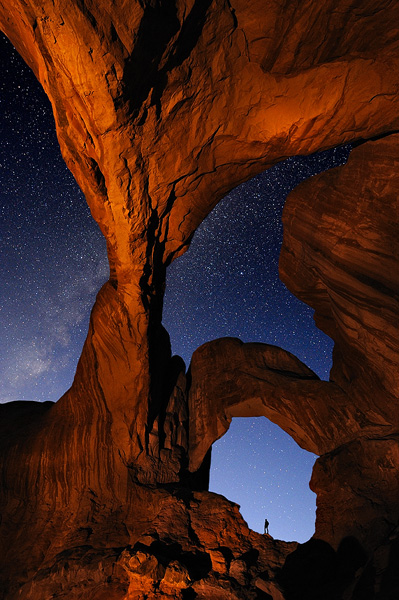 Double Arch, double exposure.
Daniella did the posing and the light painting.
Here's the story that accompanied the shot when I first put it online:'Of all the National Parks that I have ever visited in the US, Arches NP is without a doubt the most iconic one. Millions of photographs have been shot here, and to come up with something different is not easy. That does not mean one shouldn't try though, and I personally greatly enjoy thinking of new possibilities to photograph iconic subjects.
Double Arch is one of them. When you're standing below this imposing marvel of nature, it's hard to not be impressed by the size and the beauty of this amazing structure. From my research for my visit to Arches, I learned that 99.9% of all the images of this arch are more or less taken from the same viewpoint. I'm sure one of the reasons for this is that you need some distance to get the whole thing to fit inside your frame – standing inside the arch is not going to work. Unless of course you have a 14mm on a full frame camera. But even then it was tough to find a position where I could get all the openings and the lines at the right places – it only worked with a vertical composition. I was fine with that, because the vast majority of images taken of this arch are all horizontals.
I also decided to photograph the arch at night and to bring out the details and colors by using a flashlight. The advantage of doing this also meant that there would be stars, and stars are nice. I wanted to include part of the Milky Way, which meant that I had only a very short window of time to take the shot. These decisions were all very important in order to create something original, but the most important one for me was to include a human figure. It brings the shot to life and it acts as a vital scale element. The fact that most landscape photographers don't like humans in their pictures is always a nice bonus when you're trying to create something original.

This was shot three years ago as a double exposure – one for the sky with my lovely assistant, one for the light painting. We tried to shoot it again with our group on this year's Arches Under The Stars workshop, but the weather gods did not want to cooperate. They gave use snow the next day though, so that made up for that.'