27
Back from Japan
We're back from Japan. Well, actually we're already in Iceland now, but we're no longer in Japan.
It was a great trip, thanks to a fantastic group. Thank you guys for all the laughs, it was great fun!
There was plenty of snow at all locations, which was the most important thing. Weather was good most of the time with little or no wind, and pretty moderate below freezing temperatures. We got one morning of falling snow at the cranes, which was spectacular. As always, we visited the cranes' roosting spot three very early mornings in a row, and we got rewarded with near perfect conditions on our last visit – no wind, a good sunrise, hoarfrost and lots of steam rising from the river. A little bit too much steam perhaps, as it took some time before we could see the cranes, but when we did, it was magical.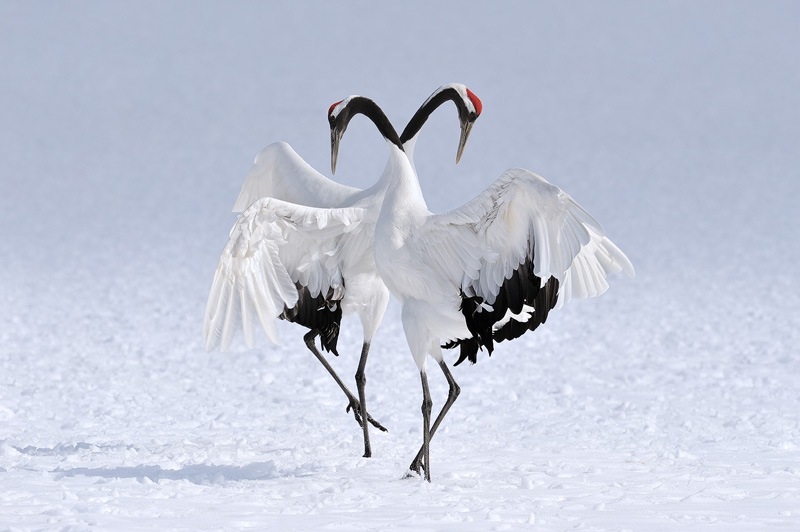 This year there was also a lot of pack ice in the North East, so much actually that our boat wasn't able to go very far. Not much of a problem, because there were loads of white tailed and Steller's sea eagles around and beautiful snow covered float ice for them to land on. Lots of eagle action on both mornings and few people shot less than a thousand images on a single morning.
The swan lake looked particularly stunning this year. It had been freezing hard for a couple of weeks, and the snow covered ice sheet was pristine. We also got some hoar frost on our second morning, which is always a very welcome bonus. As always, we started the trip at the snow monkeys – surely one of the most photogenic animals I have ever photographed. Like at all the other locations, the wildlife here is totally relaxed with human presence, so there was plenty of opportunity to photograph the macaques bathing, fighting, grooming each other, mating, playing, running and jumping across the stream. It's really hard to take a bad shot here!
We were one of the first companies to offer a specialized wildlife photography tour to Japan many years ago, but the last few years many companies have started to do the same thing – often down to an exact copy of our itinerary. However, these companies don't have the experience that we do, and they certainly don't visit some of Marsel's favorite secret spots. If you want to get the best shots on the best spots and stay at the best accommodation on each location, then you don't need to look any further. If you're interested in this wildlife trip of a lifetime, check out the White & Wild Japan page on our website for more information, tour impression video clips and the booking form. Hope to see you there in 2014!