1
Nikon Z9 Field Report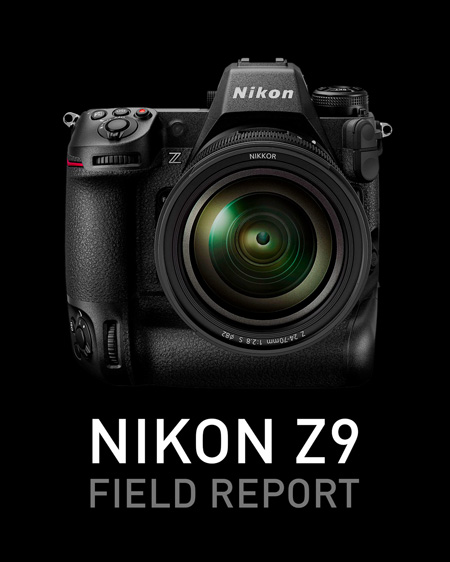 Having been involved in the global introduction campaigns for both the Nikon D850 and the Z7, I can honestly say that working with the Z9 — Nikon's new flagship mirrorless camera — has been nothing short of a life-changing experience.
For the past month, I have extensively tested the Z9 in real-life situations in the field, and this is my field report.
First things first: specs. The Z9 is built around a newly developed FX-format stacked CMOS 80.2MP sensor with a 20-stop dynamic range (19.77 EV) with a native 50-102,400 ISO range (expandable to 25-204,800). The Z9 has an updated hybrid AF system comprising 1,080 on-sensor phase-detection AF points as well as 850 contrast-detect points, covering 98% of the image frame. Epic stuff!
The body is considerably smaller than a D6, and a whole lot lighter despite having an integrated vertical grip that feels just as good. The entire body is made from titanium, an industry first. Ergonomics are great, and all the buttons are in the right place — but there are a few new ones.
The first one is a little switch near the bottom of the grip that features a fire icon. Flip that switch and a heating element inside the grip turns on, keeping your hands and fingers toasty warm on those cold winter shoots. The shutter button will also heat up when using this feature, so no more frost-bitten shutter fingers!
The second new button is located on the back of the camera, next to the microphone, and controls another revolutionary new function: Niko. Amazon has Alexa, Apple has Siri, and Nikon now has Niko. Niko is your own personal assistant. When you press this button you can ask Niko to help you find the right exposure, find the nearest Starbucks, or give feedback on your images. In the menu you can choose from three different feedback levels: Beginner ("Great shot, well done!"), Constructive Critique ("Have you tried a vertical composition?"), and Passive Aggressive ("I don't care about this image, but someone else might").
When this function is enabled, it shows up on the LCD screen as "Virtual ass" because it's too long. This will be fixed with a future firmware update.
Autofocus is lightning fast and deadly accurate. Most cameras have eye detection, but the Z9 adds Species Recognition. The Z9 can connect to any cellular network with its built-in 5G technology, and when you point your lens at an animal the camera quickly scans its online species database and shows you the name of the species in the EVF. When I tried to photograph my friend Awi, who recently gained a lot of weight during his 12-month self-isolation in Sweden, the camera incorrectly labeled him as "hippopotamus" in the viewfinder, but this will also be fixed in a future firmware update.
The Z9 uses the same technology to offer you the first in-camera dating app for photographers: Nikompanion™. You can scroll through profiles of photographers around the world to find your Nikompanion for life, and you can do it all on the back of your camera. Take a picture or video and immediately send it to your future partner anywhere in the world!
Another fascinating new feature on the Z9 is called MosQUITo™. When enabled in the menu, the camera will produce an ultrasonic sound that humans cannot hear, but that will keep the mosquitoes away up to 3m/9ft! Anyone who has ever photographed in Alaska or Scandinavia in summer will appreciate this nifty feature. You might attract some bats though.
These features alone will blow all other cameras back into the stone age, but there is more. The Z9 is triple-sealed and waterproof up to 1m/3ft. Inside the vertical grip, next to the battery, sits a small air capsule and the FloatBag™. When you accidentally drop your Z9 in a river, ocean, or lake, the water pressure will activate the air capsule which will then inflate the FloatBag — much like the airbag in your car. This will keep your Z9 afloat so that you can quickly retrieve it. Nikon has clearly listened to its outdoor photographers!
I now realize I haven't even talked about image quality yet, probably because it is exactly what you'd expect it to be — superb to the max. Hyper-sharp and completely noise-free. Photography redefined.
Needless to say, I was disappointed that I had to send my prototype back to Nikon after a month of pure photography bliss. I can't wait to get my Z9 later this year!
Marsel | squiver.com