Polar Bears of Svalbard
DATE 9 – 20 July 2020 (11 nights/12 days)
GENRE wildlife and landscape
TOUR LEADER Marsel van Oosten & Daniella Sibbing
FEE 9,950 EURO
all bookings are based on sharing a cabin
the tour starts and ends in Longyearbyen
DOWNPAYMENT 2,500 EURO
GROUP SIZE based on 14 guests
LEVEL all experience levels
JUST THE POLAR BEARS AND US
Svalbard has always had our interest, but the problem is that the amount of small ships available is very limited. Or you end up on a large boat with lots of other guests and tour groups. Not what we want! That is why we are very happy that we have been able to charter a small ship for an exclusive Squiver photo tour with a group of only 14 guests to Svalbard! Our main objective is to photograph polar bears in their natural surroundings, but we will also have the possibility to photograph whales, walrus, arctic fox and a large variety of sea birds.
OUR SCHEDULE IS TOTALLY FLEXIBLE
There are no pre-defined plans that will rush us, no day routines that affect our shooting schedule, nor souvenir stores we need to visit. It's all about photography. As the focus is on polar bears on ice rather than on land, we will start sailing to the area that has the best chances on seeing them on pack-ice. Together with the captain and the expedition leader we will decide on the best strategy to make it work!
This means the route is different each year, as the entire plan is based on the ice conditions, the wind and where the bears are! And where the bears were last season, doesn't say much about where they are the next. If there is a year with a lot of ice, you do not need to travel far north to reach the ice edge. But if there is a year with little ice, for instance, it means that you have to travel a bit further to get to the ice edge in the north of Svalbard.
The tour leader will decide with the highly experienced expedition leader and captain the route on a daily basis, depending on the ice charts and the weather forecast. That's the nice thing about a small ship for only our group: we are totally flexible in where we go. And the location of the ice edge around Svalbard is key in deciding where to go. Because the ultimate goal is finding polar bears on ice. And that is usually in the north (Nordkapp), or on the ice edge under Nordaustlandet.
We do not have a goal when it comes to the route, because that makes no sense. Some ships for instance tell you that you will circumnavigate Spitsbergen. However, navigating around Spitsbergen only makes sense if there have been bears spotted in the south-east for instance. Otherwise we won't do that; that would be wasting valuable time. The focus on this tour is on bears, where ever they are.
This does not mean we won't try and photograph beautiful glaciers, arctic fox, reindeer, walrus, puffins and sea birds. It's just not our first priority, but we definitely will try to squeeze them into the mix!
A PRIVATE, SMALL BOAT
You will be traveling on the Polarfront, which is a French ship with English speaking crew. It has been renovated in 2018 and is one of the more luxurious small ships around Svalbard. The boat has a huge back deck which is low, so you can take shots from a relatively low angle. Because the size of the outside deck, there is a lot of room to move around with your photo gear and photographing from the ship itself is of course a lot more stable then from zodiacs.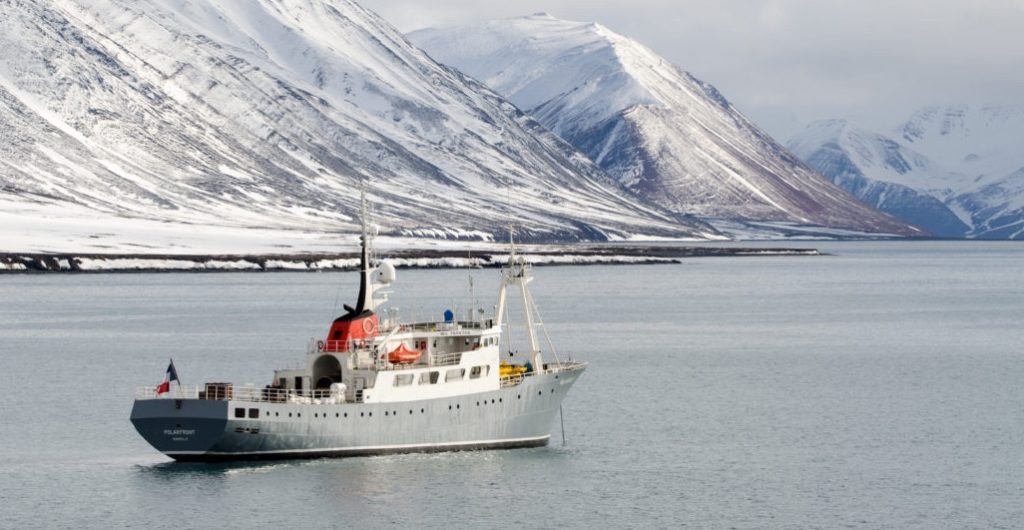 And if you get cold, you can warm up in the sauna, or climb in to the hot tub on the back deck. You may even spot a polar bear, while bubbling away!
SHOOTING FROM THE BOAT, ZODIACS AND LAND/ICE
We decide if we want to photograph from the ship, or if it is better to get into zodiacs or to get on land. All will be done to get the best photographs possible on this trip!
WILDLIFE PHOTOGRAPHY
This tour is lead by Marsel van Oosten and Daniella Sibbing. Together they have a ton of experience photographing wildlife in remote locations and challenging conditions. Marsel recently won the grand title 'Wildlife Photographer of the Year', which means that his photographic tutoring is of the highest level you can expect. This will help you make great pictures of not only polar bears, but also of walruses, foxes, reindeer and birds.
PHOTOGRAPHING IN SNOW & ICE
One aspect which is very important for the Svalbard tour, is knowing how to shoot in snow & icy conditions. Because it can result in a lot of over- or underexposed images if you are not careful. On one of the first days of this trip, Marsel will give an in-depth presentation on how to photograph bears on ice and snow, and on how to get consistently perfect exposures in these conditions.
INCLUDED IN THE TOUR FEE
11 nights on the ship
all meals
coffee, tea and water
guides and crew on board
highly experienced expedition leader with arctic experience
all landings with zodiacs
use of the sauna and hot tub on the deck
NOT INCLUDED IN THE TOUR FEE
flight(s)
all other drinks on board
tips for the crew
laundry
phone, internet, e-mail
travel and cancellation insurance
For your information, we also have a link to our Terms & Conditions for you.
The shipping company advises everyone to take out cancellation insurance for the tour, because it's a charter and fees are non-refundable unless you can be replaced by another paying guest. If you want to get cancellation insurance, this needs to be arranged upon booking. You can get cancellation insurance through a third party, or we can arrange it for you. For more information go to: www.squiver.com/insurance.html to see what we offer. If you take out insurance from another party, please check the maximum amount they cover, because it's usually capped to just 2500 or – if you are lucky – 5000 euro.
Book Now