Polar bears & icebergs
DATE 27 March – 5 April 2025x(dates not yet final)
GENRE wildlife
TOUR LEADERS Marsel van Oosten & Daniella Sibbing
TOUR START Ottawa, Canada
TOUR END Ottawa, Canada
FEE 27,500 USD
GROUP SIZE 10 Guests
LEVEL All experience levels; non-photographing partners will also love this tour!
We are very excited to offer you this unique and super spectacular and scenic wildlife tour, which will take place in the Canadian High Arctic:
POLAR BEARS, ICEBERGS & AND CUBS (a 10-day expedition)
This tour will bring you to the most incredible spot in the world to view polar bears amidst the icebergs on Baffin Island: Nunavut. We will take you to the high eastern Arctic, where travelers seldom go, in search of polar bears in undisturbed splendor as they venture on the sea ice and climb majestic icebergs.
By the end of March, the polar bears come out of their dens, and we will be there to photograph them, surrounded by snow-capped mountains and soaring icebergs at every turn. The ultimate goal is to find polar bear moms with cubs and photograph them in a vast landscape of snow, mountains, and icebergs.
Our objective is not only to find them but to give you a unique perspective on the bears, as we are able to photograph them from ground level and on foot. But always at a safe distance, not to disturb them in any way.
We will spend 7 days on the sea ice with local Inuit guides, and travel by snowmobile and qamutik (traditional Inuit sled pulled by snowmobiles), exploring the wilderness in search of polar bears. This trip offers you the chance to view and photograph polar bears and cubs, varying from 2- or 3-yearlings and, if we're extremely lucky new cubs. If the weather cooperates, we might even experience northern lights on this tour!
The location is incredibly remote, as the camp is far removed from the closest town, and everything has to be flown into Qikiqtarjuaq and transported by snowmobile to the camp. In the camp, there is a staff-to-guest ratio above 1, amazing chefs to cook your meals, and the wilderness camp is set up for just 36 guests per season! We guarantee you: it will be one of the most special trips you will ever do!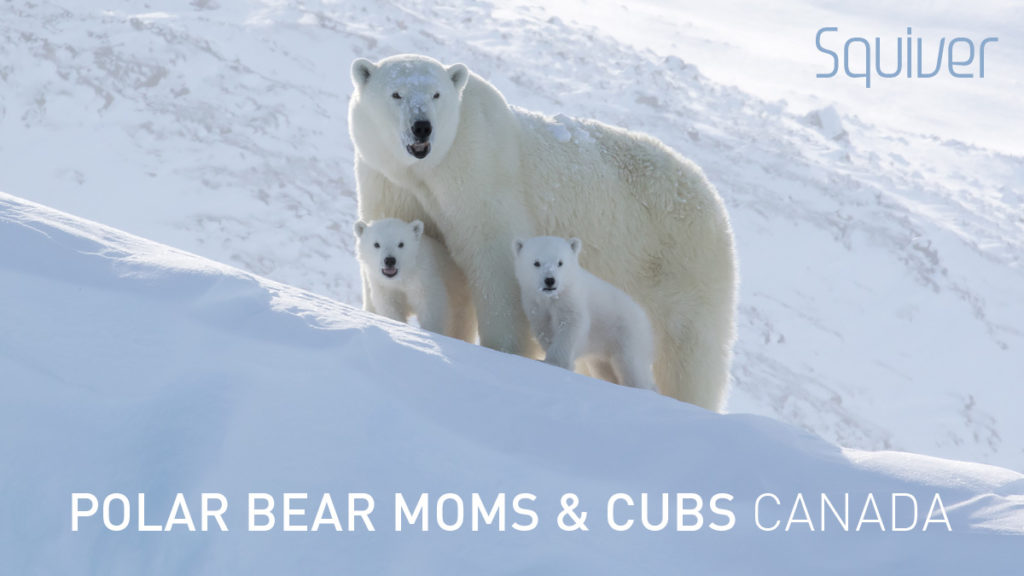 TOUR ITINERARY & DETAILED INFO
Day 1: Arrival in Ottawa. Overnight in a comfortable airport hotel.
Day 2: Flight from Ottawa to Iqaluit. Overnight & dinner in our hotel.
Day 3: Early morning flight from Iqaluit to Qikiqtarjuaq; travel to camp by snowmobile and qamutik (traditional Inuit sled).
Day 4 – 8: Full day exploring the majestic High Arctic wilderness by snowmobile and qamutik. Local Inuit guides will help us locate and safely view polar bears.  Hopefully, we will also get to enjoy the Northern Lights at night! Weather and snow conditions determine the exact route.
Hot lunches will be served on land, and gourmet comfort food dinners at camp. Schedules are flexible and determined by our sightings.
Day 9: After a hot breakfast, we spend another morning looking for polar bears. In the afternoon, we are transferred back to Qikiqtarjuaq for the last night's stay in a local hotel.
Day 10: Flight from Qikiqtarjuaq to Ottawa. We suggest overnighting at least one extra night in Ottowa before connecting to your international flight home to allow for weather delays.
The Arctic has many variables that can influence travel plans. Being relaxed, patient and flexible are important attitudes!
Tented safari camp on Ice 
Every day provides unparalleled opportunities for adventure and remarkable photography before you return to the warm and comfortable Arctic safari camp on the ice. Your tent is called an "Arctic oven," and it's true. You will not be cold in your tent!
Polar expeditions and African-style mobile-tented safaris inspire the camp. While they may appear like a tented camp from the outside, they are luckily not as airy as the tents used in Africa! The tents we will use in the Arctic are insulated, with a roomy and warm, heated interior. They are set up on a minimum of 2.0 meters (6 feet) of solid ice.
The sleep tents are large and spacious at just over 2m (6'9") tall and an interior of 8m2 (90 sq. feet). They include a large entrance vestibule, ample standing room, and space for all your cameras and luggage. All tents contain two beds with mattresses, sleeping bags with personal liners, and full-size pillows. The insulated walls act as a greenhouse, capturing the warmth of the sun. The tents are heated to keep you warm and comfortable at the end of a day out on the ice.
We know that no amazing Arctic experience is complete without delicious food. We will have a private chef who manages the kitchen tent, preparing the day's meals, snacks, and delicious desserts. The dining/lounge area has a convenient buffet table where snacks and hot drinks are provided. The kitchen is NOT kosher or halal. Special dietary needs can be catered for but need to be discussed upon making the booking.
The weather
In March and April, the days are beginning to get longer. We'll have 12 to 14 hours of daylight, depending on the dates. While cold, temperatures during this season are rising. For March and April, average temperatures range from -40 to -20°C (-40 to -4°F). You can also expect snow during this time. For those interested, we can provide a complete polar clothing package for you that you can rent. The right clothing is essential and will enhance your Arctic experience. It allows you to enjoy your expedition in comfort, no matter what Mother Nature brings!
Level of difficulty
This photo safari is in a very remote location that can experience extreme weather conditions. You should anticipate spending long days traveling by snowmobiles and qamutiks out on the ice, photographing the beautiful landscapes and amazing icebergs while being on the lookout for polar bears. And we guarantee you, it will be worth it!!!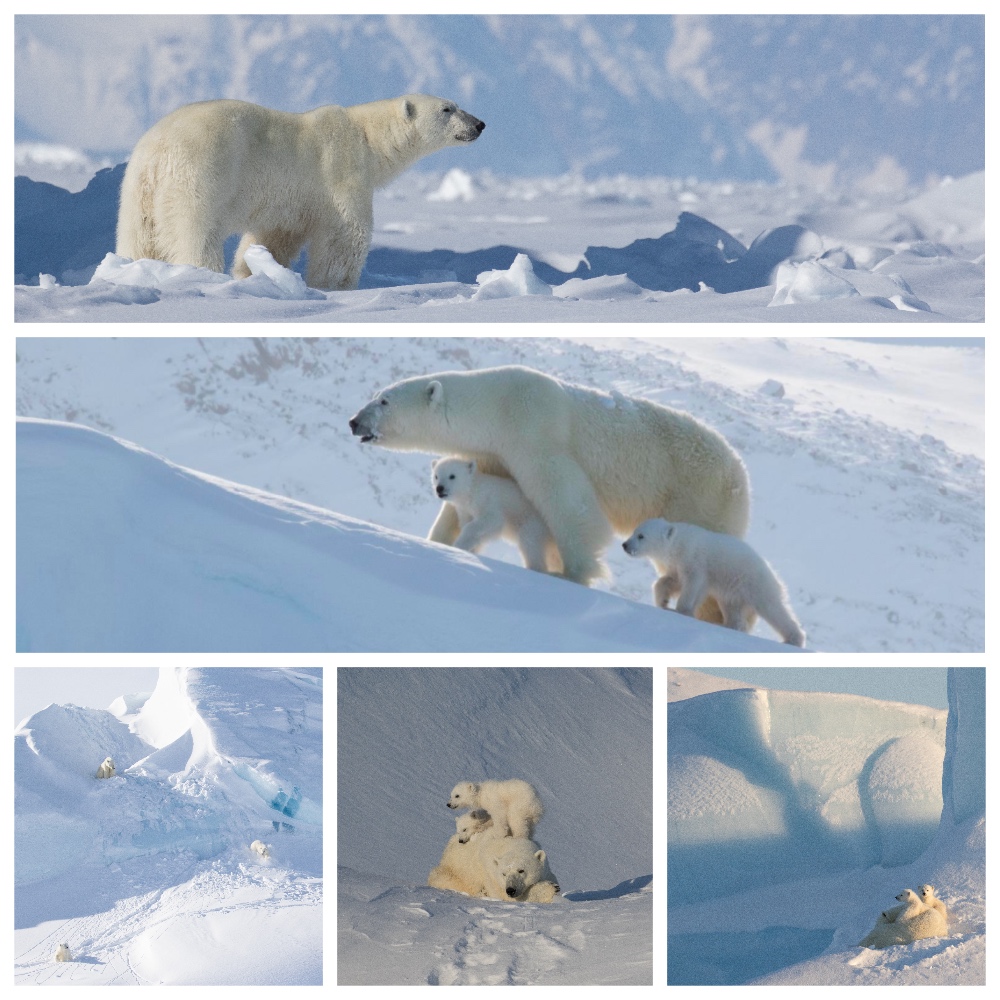 Is this adventure for you?
This tour is perfect for anyone who wants to see and photograph unique wildlife, icebergs, and breathtaking landscapes. It is designed for professional and serious amateur photographers interested in an authentic high Arctic experience. It will be an adventure as we will be heading off the beaten track beyond the usual tourist route, and you will be among the first to explore this amazing region. Not for the faint of heart, as weather conditions can be more extreme on this trip. While you don't need to have previous Arctic experience, an adventurous spirit will ensure you have a great time. Being laid back, open-minded, and having a patient demeanor is important.
Spirit of adventure required
On this expedition, the itinerary of each day will be determined by wildlife and the weather. There may be days with plenty of opportunities for wildlife photography, but there will also be days that require waiting to get the perfect shot, and there may be days spent in camp due to the weather. There can also be days without seeing any wildlife at all, but that is compensated by the gorgeous landscapes and icebergs that we can explore and photograph up close as they are frozen into the sea ice. This gives you a truly unique perspective, as icebergs are usually photographed in the summertime from a ship or zodiac.
This tour is really wild, and nature is unpredictable.
Good health is fundamental to travel to such a remote region. You will be required to obtain emergency medical and evacuation travel insurance.
This Arctic photo tour is designed for viewing and photographing animals in their natural habitat. But you will also be introduced to the Inuit culture, including their traditional hunting lifestyle. You may see evidence of hunting, including dead animals, as you wander through the communities. Examples include the stretching of sealskin to make boots or mittens and Inuit dog teams being fed Arctic char or seal meat. While on our adventures, we may also come across an Inuit hunting party.
If you are open to the experience, these sights can provide a window into cultural traditions that stretch back for generations and exist in harmony with the wild Arctic. As part of the Inuit cultural experience, our guides will show you how to stalk wildlife for viewing and photography, using the same techniques a hunter does.
Why is this tour so expensive?
We are very aware that this is an expensive tour. We wish it were cheaper, but unfortunately, several factors make this expedition very costly.
First, there is only a tiny window each year to find polar bear mums and cubs – less than two months. The law of supply and demand does the rest. Secondly, this is as remote and wild as it gets — we will literally be in the middle of nowhere. Obviously, it is quite difficult, time-consuming, and expensive to set up a camp in the High Arctic. Third, transportation to and from our camp is extremely expensive due to the remote location.
For our local outfitter, costs have increased further for a large number of reasons since we last offered this trip (in 2023, but with 2021 prices as it was a tour postponed due to Covid): higher prices for flights, fuel, and freight, high inflation rates, and most recently, a very serious increase in labor costs as salaries for the arctic ground-staff, as their salaries have not been increased since before the pandemic. This means that the operating costs for our local outfitter have risen drastically as a result of the global landscape from the pandemic.
That said — we believe that the photographic opportunities on this expedition will be just as unique as the rest of this once-in-a-lifetime experience.
The tour fee is based on everyone sharing a room. A single room can be booked in the airport hotel and possibly in Iqaluit (depending on availability) for an extra fee. The difference in price for the hotel rooms will be discussed with you before we send out the final invoice 6 months before the departure date.
INCLUDED IN THE TOUR FEE

All transportation to, from, and in the Arctic:
Round-trip flights from Ottowa to Qikiqtarjuaq
Airport/hotel transfers in Qikqtarjuaq
All excursions for the duration of your stay in the Arctic camp
All meals & drinks in the Arctic camp and Qikiqtarjuaq
All accommodation:
1 night in Ottawa, 1 night in Iqaluit or Qikiqtarjuaq, 6 nights in an Arctic tented camp, 1 night in Qikiqtarjuaq at the end
NOT INCLUDED IN THE TOUR FEE

Your flight to & from Ottawa
Meals & drinks in Ottawa
Additional nights outside of the itinerary
Extra hotel nights at the beginning and end of the trip to allow for weather delays
Tips, gratuities, personal expenses
Baggage, cancellation, and personal insurance (which is mandatory)
Additional costs associated with weather delays and/or canceled flights, or layovers in Qikiqtarjuaq, Iqaluit, or Ottawa
For your information, we also have a link to our Terms & Conditions for you.